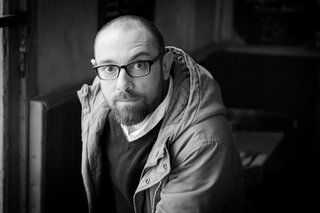 Julien Hazemann was born in 1978. He is based in Lannion, in French Bittany
He comes from the cinema. He started in the 2000s to work on films as an assistant director, then as a location scout. From basements to rooftops, he explores the Paris region with a camera in hand. He is interested in places. He looks at them through the stories they carry. A face, for him, tells something, a wall too.
He cultivates the taste of exploring and telling stories until he takes his camera and a plane ticket and goes for a walk a little further. He looks for places, universes. He goes through Cairo in the middle of the revolution, through New York where he looks at the modernity of the 20th century, and through Shanghai where he discovers that of the 21st century. And from Shanghai, he went deep into China and its transformations. He returned several times and published his first photos in Geo.
While photographing places, he started to work on the people who live there. He quickly became interested in the way urban transformations change people and produce lifestyles. For him, people make cities, of course. But at the same time, cities make people. From places to people, he is passionate about behavior and the social, political and historical perspectives that run through them.
It is through this anthropological and geographical approach, influenced by the theories of the Anthropocene and the generalized urbanization of the world, that he began his work documenting the making of the city in the 21st century. He mixes long-term fieldwork and collaborations with researchers to propose a new imaginary of the city and the urban.
First in Chongqing, China, where between 2010 and 2017 he made Min Gongs, the People of Work. He then pushed his exploration of the generalized urbanization of the world in other cities and on other continents, from Delhi in India to Dakar in Senegal via Dhaka in Bangladesh and Brittany in France.
Exhibitions
Chongqing underground, Edmond Rostand center, Paris (second semester 2022)
Chongqing underground, André Labarrère center, Pau (spring 2022)
Chongqing underground, Le Moloco, Audincourt (November 2021)
Min gongs, le Peuple du travail, Jean Jaurès center, Nevers (December 2020)
Min gong style, Barrobjectif festival (September 2019)
Dhaka, on the front line, Photodoc, Paris (May 2018)
Run run bang bang – collective exhibition "Chaotianmen" with Nadav Kander and the Magnum agency, Chongqing Art Museum (February 2017)
Awards / competitions
Finalist of the
ANI
-PixTrakk 2018 competition for the series "Min gong style"
Finalist of the Life-Framer competition (August 2017)
Nominated in the Photojournalism category for the series "Min gong style", International photography grant (2017)
Publications
Run run bang bang, 7 infos (fall 2018)
Min gongs, the Woking Folk, La Vanguardia Magazine (July 2018)
Min gongs, the Woking Folk, Aftenposten Innsikt (August 2018)
The Far North Postman, La Croix, Portfolio section (February 2018)
The Far North Postman, Roads and Kingdoms (USA) (December 2017)
Min gongs, the Woking Folk , Alternatives économique, Zoom section (October 2017)
Chongqing, the Chinese megacity, Geo (April 2014)
Cinema
2000 – 2016 : Assistant director and location scout for feature films
Education
DEUG
, audiovisual degree, University of Paris 8 in Saint Denis 1999 / 2004
ESEC
(Ecole Supérieure libre d'Etude Cinématographique), editing option, 2000 / 2002
Baccalauréat (high school degree), 1999
contact@julienhazemann.com
Facebook
Instagram
Blink