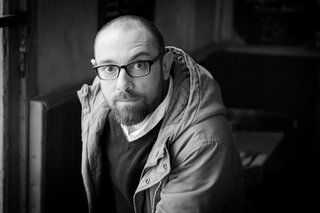 Julien Hazemann was born in 1978, and is based in Paris.
Julien's background is with the film industry. He began as an assistant director during the 2000s, and moved on to scouting film-locations. Camera in hand, he explored the Paris area, from basements to rooftops. He is thus intrigued by places, deciphers them through their history and stories. To him, a face tells a story, and so does a wall.
Julien developed a growing taste for exploration and storytelling, which lead him to book a plane ticket, embark his camera and wander a little further. He seeks places, universes. In Cairo he witnessed the uprising, in New York he examined the modernity of the 20th Century, and discovered that of the 21st Century in Shanghai. And from Shanghai, he explored further, dived deeper into China and its transformations. After several trips, he publishes his first photos in Geo Magazine.
By photographing places, he inevitably started to include the people that inhabit them to his work. Quickly he is captivated by the way urban transformations change people, and generate various lifestyles. To him, men make cities, of course; but just as cities make men. From places to people, he finally becomes passionate about human behaviour and the social, political and historical perspectives that transcends them.
contact@julienhazemann.com
Facebook
Instagram
Blink